REGAIN CONTROL OVER YOUR BODY FUNCTIONS!
Do you feel dizzy and out of breath? You may not have enough oxygen in your blood. Dr.Pulse is a reliable, safe, and non-invasive device that gives you an accurate measurement in a few seconds.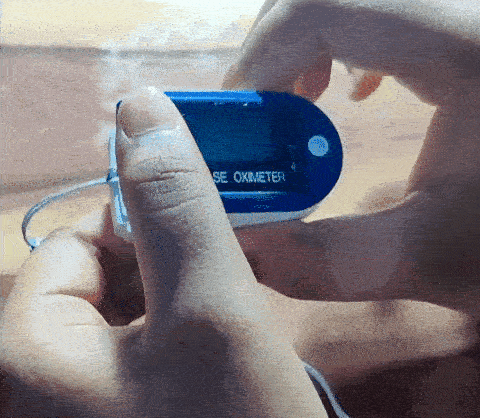 WHAT TO EXPECT?
Dr.Pulse is an electronic device that measures the saturation of oxygen carried in your red blood cells.
You can expect a simple, quick, and safe measure of the oxygen saturation level in your body. The probe will be positioned and within a few seconds, the oximeter will provide a readout of your heart rate and your oxygen saturation level, as in the picture above.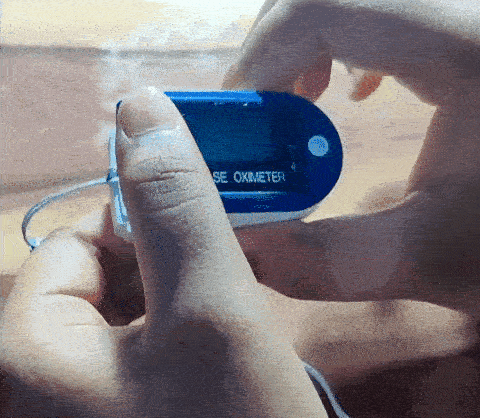 WHY USE Dr.Pulse?
Your blood oxygen level indicates how much oxygen your red blood cells are carrying.

High blood oxygenation plays an essential role in ensuring that your muscles, brain, and other organs receive the energy they need to function properly.

That's why it's so important to understand how to measure your current oxygen level and determine whether it falls within an acceptable range. 
BENEFITS
✔️EASY TO USE - Taking a reading is easy. Simply clip it onto your finger, press the button to turn it on, and wait. Within 6 seconds, you'll have an accurate reading of your SpO2 levels and pulse rate.
✔️PERFECTLY PORTABLE - Thanks to its small compact dimensions, low weight, and battery power, you can take this oximeter with you everywhere. It fits in a handbag, backpack but also in a pocket. This way you can use it anywhere and anytime.
✔️THE BEST QUALITY MATERIALS - The highest quality materials and patented manufacturing technology have been used in the manufacture of this finger pulse oximeter for maximum accuracy, durability, and product reliability.
HOW IT WORKS 

A pulse oximeter measures how much light is absorbed by your blood. This tells us how much oxygen your blood contains.
The pulse oximeter shines 2 lights through your fingertip or earlobe: one red light and one infrared light.
Blood containing lots of oxygen absorbs more infrared light and lets more red light pass through it.
Blood without enough oxygen absorbs more red light and lets more infrared light pass through it.
If your blood cells do not have enough oxygen, they will appear bluer.
HOW TO USE
Using Dr.Pulse is extremely simple and can be done by anyone.
Open the clip, press the PUSH button at the top.
Insert your finger and hold it parallel to the ground.

Turn on the oximeter with the white button.
Read the obtained measurement. After a while, remove your finger from the oximeters.
Specifications:
Color: White & Blue
SpO2 Measuring range: 0%-100%
SpO2 Declared Accuracy: 70%-100% :  ±2%, below 70%, unspecified
PR Measuring range: 30-250bpm, ±1bpm
PR Declared Accuracy: ±2bpm or ±2% select larger
Power Supply: 2 * AAA batteries(not included)
Operation Temperature: 5℃-40℃
Operation Humidity: 15%-80%
Atmospheric Pressure: 70kPa-106kPa

Packing List:
1 * Dr.Pulse
1 * User Manual(English)
Don't Lose Out! Promo Sale Ends Soon.
✅ 100% Satisfaction Guarantee - Easy Refunds
Our guarantee:
We work hard to offer you the best, most popular, and highest quality products available on the market space. We back it up with a risk-free 90-day, 100% MONEY BACK GUARANTEE. We send every order with tracking numbers and keep you up to date with the latest tracking information while your order is on its way to you.
Our shopping cart is SSL-protected.
We love talking to our customers! So if you have any questions, please contact us via email customer.care@klayoo.com. We answer all inquiries within 48 hours.